Full-Service overnight boarding and daycare, for active or working dogs.
Foxy K9 Lodge - formerly "Dogstead"
The former Dogstead has now partnered with Foxy K9 to bring you the Foxy K9 Lodge! The Lodge is a country getaway for your dog while you are away. Services are provided in-home so every guest is given personal attention. We also have a spa location in St. Peters, Mo. Click below for more information.
The Lodge is more than a business, it's my home and I share it with three of my own: Cooper, Raina, and Lux. All three are active and enthusiastic about their hobbies such as horn chewing, ball catching, and rope pulling. In their younger years Cooper and Raina would run next to my bike for miles, in fact that was the only way I could wear them out. Dogs have been an almost constant part of my life going back to elementary school, and I wouldn't have it any other way. Our Amenities feature group play, bathing and nail trims, and hair cuts. We have Daycare, overnight boarding, and in-home boarding stays. We only use premium foods and the Fresh air and smells are no charge!!
-Nathan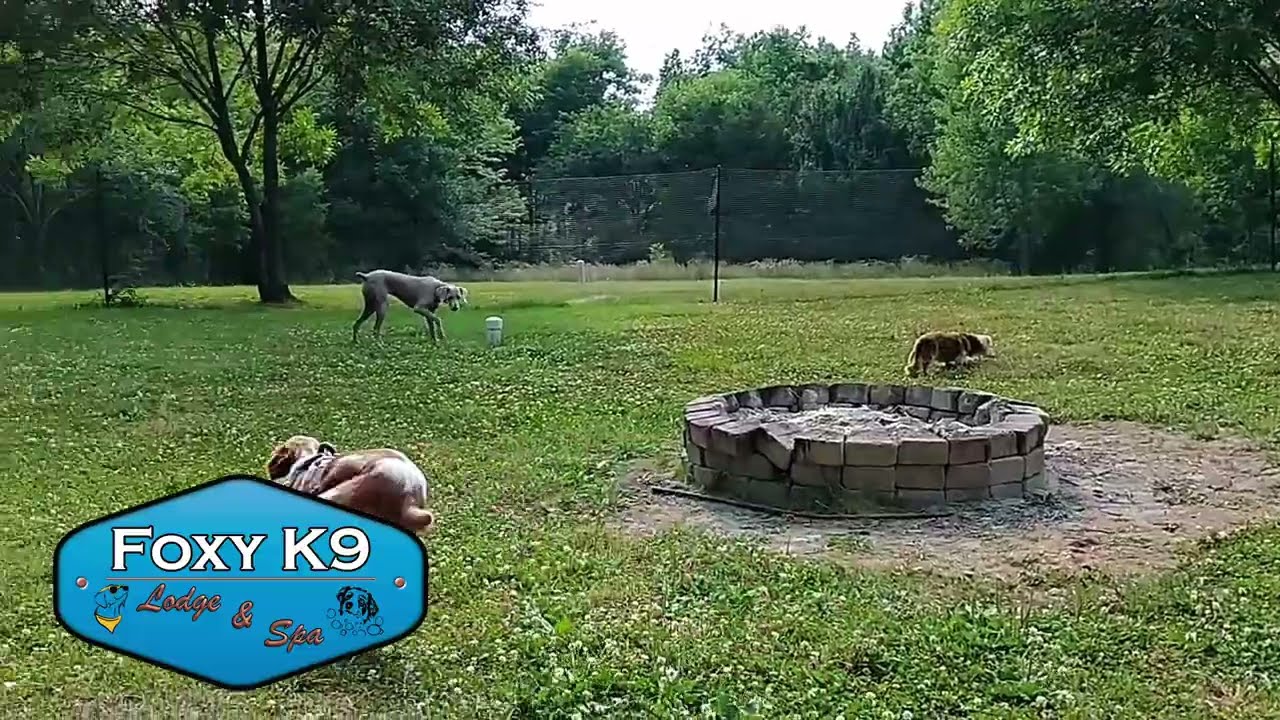 How is Payment handled & do you charge sales tax?
We take cash, card, and
Venmo using @FoxyK9Lodge
.
The early checkout policy no long applies. Anyone checking out on Sunday gets that day free. For example: Check-in Satruday, checkout Sunday gets charged for
ONE
day. Check-in on Sunday checkout on the following Sunday gets charged for seven days not eight.
How are the kennels set up?
The kennels are all in a walk-out basement and fully inside. Dogs are taken by hand to the yard for socializing and to relieve themselves several times per day. To accommodate family groups and large breeds, our smallest kennels are 24sqft and the largest is 60sqft
We offer nail trims and baths, but not hair cuts. You can schedule your complete grooming with Foxy K9 Spa.
Do you take this breed or puppies, or intact males?
We take all breeds from Akitas to Wieners. What we can't take are aggressive individuals, those not reliably housebroken, or females in season. Well-behaved intact males are welcome, though aggression or a habit of marking inside are not.
You have a play yard, like a dog park?
We do have a spacious yard, great for getting energy out or for just sniffing the fence line. Play time is usually in a group and always supervised to ensure personalities don't clash. Loners or nervous dogs are also welcome and are simply let out after the others.
Will you send me pictures in case I get separation anxiety?
We will, just ask. If we get an especially good picture or video we may also post it here or on Facebook, unless you don't want us to.
What do we need to bring?
Before check in you will need to provide their record of rabies, distemper, and bordetella (kennel cough) vaccinations. A clear picture by text or email is fine, so are paper copies. You're also encouraged to have your dog on flea/tick preventative since we are in a rural area, and we have some if you need it.
A cot, bowls, and some toys are provided but you're welcome to bring their favorites. Food can also be provided, though there is a small charge and you are encouraged to bring whatever your dog is used to